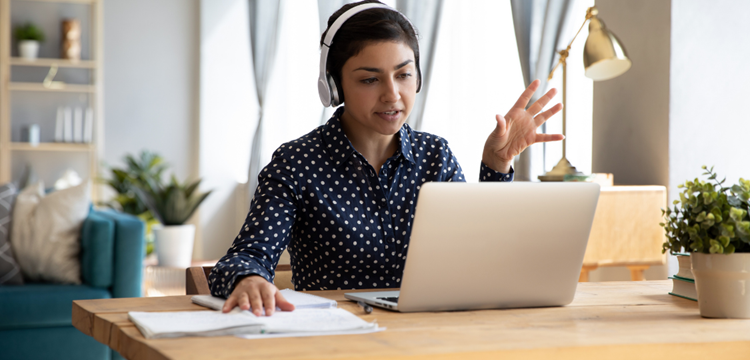 What are the best work from home jobs?
After the COVID-19 pandemic forced the world to stay home, many companies converted their operations to remote work. This unplanned need for virtual work environments created new workplace opportunities that are here to stay. 
The work-from-home lifestyle has countless perks like not having to commute, flexible scheduling options and more time with family. Plus, remote work is an accessible option for millions of people who identify as disabled.
If you're wondering to yourself, "what are the best work from home jobs?" then we have you covered! Whether you are looking for the best part time remote jobs or the best work from home jobs without a degree, here are some potential options to get you started in your job search.
5 Best Jobs to Work Remotely
1. Customer Service Representative
As a customer service representative, you are responsible for answering questions or requests from customers. You are typically the front-line - the first person someone speaks to at the company, and having good problem-solving and communication skills are critical for this role. 
As a customer service representative in professional pest control, for example, some of your responsibilities include:
Fielding customer calls

Assisting customers in scheduling service appointments 

Resolving concerns

Monitoring account receivables 

Coordinating payroll information
Specific duties vary depending on the industry. Being a customer service representative is one of the full time or best part time remote jobs due to the flexibility of the position. These jobs are great fits for people who need their jobs to adapt to their lifestyle. Find plenty of customer service representative jobs in the pest control industry on our job board. 
2. Sales Supervisor
In sales, you may be responsible for:
Selling a product or service to new or existing customers

Growing the potential customer base

Generate sales leads through marketing efforts, networking, referrals and solicitation.
Some sales representatives are required to travel, but sales positions have become one of the best jobs to work remotely since the pandemic. Regardless of your location, you can thrive in this position if you possess stellar communication skills and have a generally approachable and persuasive personality.
In the growing field of professional pest control, sales representatives are vital to helping companies stay successful. As a sales rep in pest control, you would interact with potential customers and sell pest control services. Browse sales jobs in pest control on our job board and find a position that works for you.
3. Administrative Support
There are a wide variety of responsibilities when working in administrative support. Depending on the industry or business sector, you may be asked to complete different tasks such as:
Answering calls

Preparing documents

Maintaining filing systems

Scheduling meetings 

Planning events. 
Administrative support roles are an integral part of the business as the key person who supports other people in the company. Many consider administrative support positions to be one of the best work from home jobs without a degree. 
An administrative employee working in professional pest control may work as an office manager/supervisor or even do some accounting, required to handle billing, tending to accounts, managing records and reports, processing paperwork and assisting other personnel. 
Many administrative roles are now available as WFH positions that you can successfully do from the comfort of your own home. Discover administrative support jobs in pest control on our job board to find the perfect one for you! 
4. Virtual Recruiter
A recruiter is tasked with filling job openings at companies and organizations. You may be required to attract applicants, screen applications and select the most qualified candidates for various positions. Virtual recruiting jobs have become one of the best jobs to work remotely thanks to the use of technological solutions such as email, video calls, virtual interview software and social media. 
Opting for a remote work position in recruiting may allow you to find candidates more efficiently. However, it may also result in a higher volume of applicants to sort through. It's important to consider the pros and cons of any new industry you are considering. 
5. Data Entry
The job duties of a data entry operator, also known as a data entry clerk, include entering information into a database or program. You may be asked to complete information in documents, customer records and spreadsheets. You may also be required to check for accuracy of data input. 
For some, data entry is considered one of the best work from home jobs without a degree. For others, working a remote data entry job can get mundane and repetitive. It's essential that you stay organized and motivated in this work-from-home position. 
Now that you know what some of the best work from home jobs are, consider seeking these types of jobs in the pest control industry! Working in pest control allows you to improve people's quality of life by protecting their property and health. Explore various career paths in the pest control industry, including some that offer remote work options, and check out open positions at our job board.
If you're ready to jump into a rewarding career that pays well and offers great perks, start your search at PestControlJobs.com.