Protect & defend, even after your military career ends
pest control jobs featured in stars and stripes magazine's spring 2022 transition guide

As a veteran, you have committed your life to protecting your communities with integrity and respect. Now let us help you put your skills learned in the military to good use in an exciting and dynamic new career. The National Pest Management Association (NPMA) is the industry leading group for pest control professionals. We proudly welcome military veterans, as your experiences and skills have so capably prepared you for this new role.
In addition to technicians, there are plenty of career paths in the industry including management, customer service, sales and more. It's more than just a "bug business." Pest control professionals are vital to ensuring communities are healthy and free of pests. For many veterans, it's a new mission, but the goals of protecting and defending remain the same.
Perks
In-Demand Industry
The Bureau of Labor Statistics predicts professional pest control employment opportunities will grow by 10 percent over the next decade, faster than the average for all other trade and skilled work occupations. In fact, exterminator was ranked among U.S. News & World Report's Best Maintenance and Repair Jobs for 2022. More job openings mean more opportunities, allowing you the ability to grow faster and earn more on an expedited track.
Flexible Scheduling
One of the greatest perks in the industry is flexible scheduling, allowing you the freedom to take control of your schedule. This is especially helpful to maintain a positive work-life balance or enable you to care for a child or a loved one.
No Debt Required
Unlike other skilled trades that require long apprenticeships or training, professional pest control offers on-the-job training and onboarding, so you can get right to work and begin earning to your full potential from the start.
Good Pay and Benefits
The median wage for technicians is more than $18 an hour, according to the Bureau of Labor Statistics. In addition, pest control offers ample benefits like retirement savings, paid vacation, holidays and more.
Company-Provided Vehicle
Most companies provide a vehicle for you to use when you're working, and some even include take-home privileges. This means less wear and tear on your personal vehicle, and the comfort and safety of knowing you can get around reliably.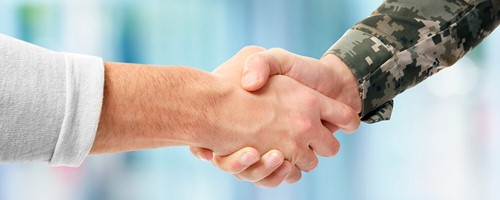 PestVets Council
To celebrate those who have served and support those transitioning to civilian life, NPMA created the PestVets Council. PestVets offers mentoring from veterans established in the pest control industry to those who are just starting out. Since 2014, PestVets has helped hundreds of veterans build careers in pest control.
How to Get Started
The best place to learn more about this exciting new career path is at PestControlJobs.com, where you'll find detailed job descriptions, testimonials and more information about veterans working in professional pest control. You can also explore available job opportunities at careers.pestcontroljobs.com, where you'll be able to search for openings across the country.
Veterans succeed in professional pest control because they already have the foundation they need. The skills you've learned in active duty can be transferred to professional pest control. Employers in the industry are looking for great problem solvers that can adapt to tough situations and understand the importance of safety. That's you.
With a commitment to engaging veterans and programs in place to support them, the pest control industry offers transitioning veterans the opportunity to continue serving your communities in meaningful ways while putting your military skills to good use. That's a career you can count on.
Stars and Stripes is a daily American military newspaper reporting on matters concerning the members of the United States Armed Forces and their communities, with an emphasis on those serving outside the United States.
The Stars and Stripes Transition Guide is a compilation of articles — on financial matters, education, resume-writing, career fairs and more — specifically designed to help active servicemembers and veterans navigate into their next stages of life. Each edition of this semi-annual publication provides practical guidance and resources for maneuvering through their next objective, whether it is enrolling in college, finding a job or getting their finances in order.
Transition Guides are distributed through Stars and Stripes' daily editions overseas and on military bases in the United States.
IS AN EXCITING CAREER IN THIS GROWING INDUSTRY SOMETHING YOU'RE INTERESTED IN PURSUING?