Support Hero: All-American Pest Control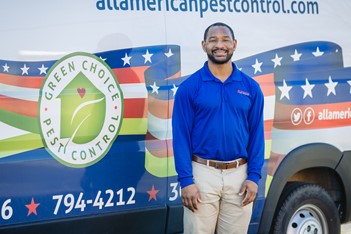 Andre Cannon's journey into the pest control industry was driven by a desire for change and a better work-life balance. Previously working long hours as a bread route delivery driver, he sought a career that allowed him to pursue a rewarding profession while spending more time with his family. All-American Pest Control's four-day work week caught his eye, providing the perfect schedule to fit his life. 
Andre found his niche at All-American as a Pest Control Technician in January of 2020 and quickly established himself as a dedicated team member eager to learn and grow. He earned a promotion to Mentor in 2021 and achieved another milestone by passing the service manager exam in 2022. Now, as a Support Hero since May 2022, Andre continues to excel. His journey is a testament to all the growth opportunities that await those who embark on a career path in pest control. 
"There is never a dull day in my job, and I really enjoy the continuous learning experience. The variety of challenges keeps things fresh and engaging. What I truly value is the flexibility this job offers. I'm not tied to a desk all day. Instead, I have the freedom to go out in the field and make a real impact. No two days are alike, and that's something I genuinely love!" 
At All-American, Andre feels a strong sense of community. Unlike his previous job, where he felt like just another face in the crowd, Andre appreciates the feeling of belonging. He believes the company truly values its employees, recognizing their essential role and ensuring they are treated as more than numbers.
For Andre, the pest control industry holds limitless potential for advancement. "Technology is always evolving, presenting exciting new opportunities for those willing to embrace change and expand their knowledge," Andre states. As someone who thrives on progress and development, Andre is proud to be a part of this booming industry.
To job seekers considering a career in pest control, Andre offers valuable advice:
"Remain open-minded, receptive to learning, and willing to work hard." Embracing these qualities, he believes, will lead to a rewarding and successful journey as a pest professional.
With fortitude and a passion for continual improvement, Andre has not only found a career that aligns with his values but also achieved the work-life balance he sought. The pest control industry, with its dynamic nature and purposeful work, welcomes individuals like Andre, ready to make a difference in the lives of others while building a rewarding career for themselves. If you're looking for a career that celebrates growth and community, there are countless opportunities awaiting you on our job board. Start your search today!
Are you inspired by Andre's testimonial and want to find your own fit?