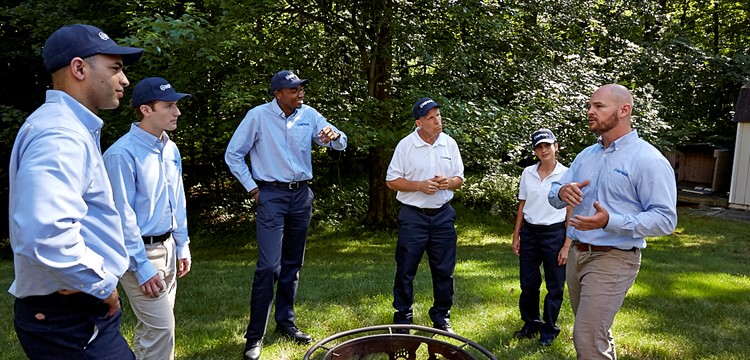 Rewarding
Outdoor Jobs
and How to Find One
Five career paths that are primarily outdoors
Are you looking for a non-traditional job that gets you out of the office and into the great outdoors?  Embrace seasonal weather and your love for adventure by considering outdoor jobs near you that allow you to make a difference in your community. 
We've compiled a list of five great job opportunities outside where you can turn your passion for nature into a rewarding career:   
Outdoor Jobs
1. Pest Control technician
Pest control technicians play a crucial role in safeguarding the health and safety of our buildings, homes and communities. They work outdoors, inspecting properties, identifying pests, and finding the right solutions. With the demand for pest control services on the rise, it's a field offering job stability and room for growth. If you're searching for outdoor jobs that pay well and allow you to make an impact, consider becoming a pest control technician. 
2. Farmer
Farming is an important line of work that can connect you with nature. A farmer works with the land to cultivate crops and raise livestock, which can be a profitable outdoor job. It often involves dealing with the uncertainties of weather, pests, and diseases that can impact crop production. Consider becoming a farmer if you are willing to fully embrace nature, but be prepared to put in the physical work. 
3. Construction worker
Construction workers help build our communities. They construct the homes, businesses, and infrastructure that we all use. Construction is a job outside that allows you to see tangible results. These outdoor jobs involve hard work, but they are essential for creating our towns and places to live.  
4. forest firefighter
For those who are seeking an adrenaline rush and the chance to protect natural landscapes, a career as a forest firefighter might be the right fit. These individuals combat wildfires to help preserve our wooded areas and wildlife. While it's physically demanding and challenging work, forest firefighting offers the unique opportunity to work outside. 
5. park maintenance worker
Park maintenance workers are responsible for maintaining the beauty and functionality of public parks. This outdoor job allows you to work in nature and contribute to the upkeep of recreational spaces. It might not be the most glamorous job, but park maintenance ensures parks stay clean and enjoyable for those who visit. 
Each outdoor job option has its own unique aspects. From farming to park maintenance, these careers offer a chance to work outside and explore various industries. If you're specifically looking for outdoor jobs near you, these careers can be particularly appealing, as they often involve working within your local community or in nearby natural environments.  
If you're on the hunt for a job that blends adventures outside, meaningful work, and cutting-edge technology, pest control is a fantastic choice.  
Discover how pest control is evolving quickly and seeking individuals like you to fill these dynamic roles. Explore open positions near you on the pest control job board and start your journey today! This helpful tool allows you to find jobs specifically in your community and get connected to the exciting world of pest control, which allows you to get outside and help solve big problems for your neighbors.