Branch Manager: Terminix Triad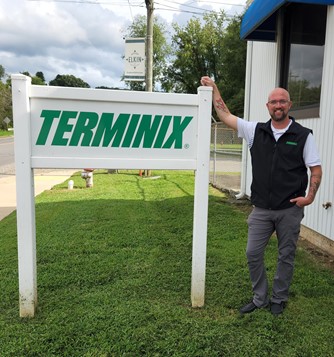 Branch Manager Wesley Stevens could talk about the pros of working in the pest control industry, and Terminix Triad specifically, for days. Wesley spent five years in the U.S. Navy, where he drove small boats in a mine countermeasure squadron as an E-4. Upon his discharge, he wanted a career where he could continue to serve people, but with a little more freedom. Pest control offered him the opportunity to be outside, manage his own schedule, provide customer service, and balance all of that while still spending time at home with his wife and children.
After speaking with a recruiter, Wesley knew this was the career path for him, and joined Terminix Triad in 2015 as a pest management professional at the Greensboro branch. He was promoted to a team lead in Greensboro, where he worked for another few years, and ultimately became a branch manager in Elkin, NC, on September 1, 2020.
Over the past two years, Wesley has grown as a manager, individual and family man, bringing the skills he developed in the Navy with him in his new career path. He hopes to have the same impact on his team that his regional manager at Terminix Triad had on him. "My manager recognized my hard work and work ethic. He taught me the ropes and what it took to move ahead, and he gave me all the tools I needed to be successful. As a Branch Manager, there is no better reward than being able to do the same for my team. I want to take care of them, make sure they understand how to make money and hit their goals. Giving them a voice and making sure they are successful means a lot to me," Wesley states.
Wesley loves watching people build a career in pest control because it has allowed him to live the life he wants outside of work. As a family-oriented person, he enjoys that work-life balance is not only supported, but also cultivated at his company and within the industry. That means he gets to go to all of his kids' sporting events and never feels he has to choose between work and family.
One of his favorite parts of the industry is that his team feels like an extended family, "I genuinely feel like everyone wants to get to know each other as individuals. That type of culture starts at the top, and we're so fortunate to have accessible, supportive leadership." On top of that, work is fun! Wesley's Elkin branch has regular contests and cookouts to keep morale high.
Wesley's advice to job seekers is this: "If you are looking for a rewarding job that offers reward-based compensation, financial security, workplace freedom, the chance to see something new every day, and the ability to work with and meet all different types of people, this could be the perfect career for you." He still recalls customers he serviced in Greensboro five years ago. Making a difference in someone's life is a memorable thing, and you get to do that every day as a pest control professional.
Wesley's story is proof that a career in pest control affords you the time and flexibility for a balanced life. As Wesley mentioned, pest control professionals are proud to know their work truly makes a difference in our world. If you're interested in finding purpose while enjoying a positive work-life balance, our job board has hundreds of positions to choose from.
Is Wesley's career story something you're interested in pursuing?